I am remaking this thread now that I have a more comprehensive understanding based on in-depth discussions with other players experiencing the same problem. Here is the error: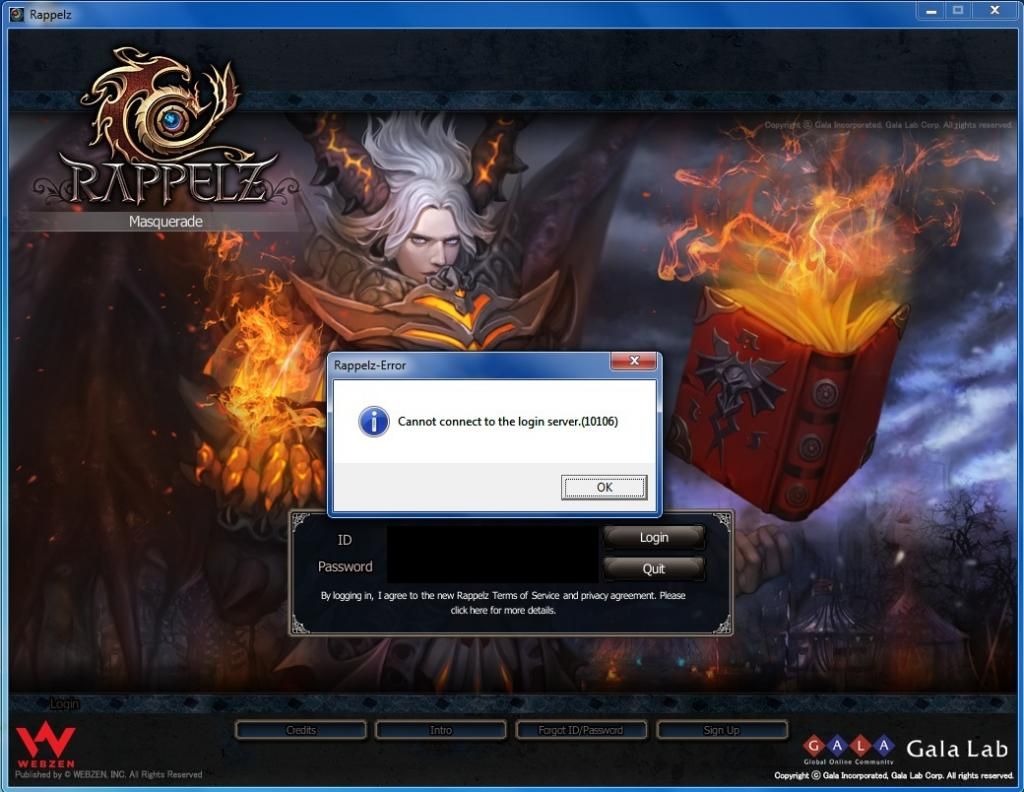 I have been unable to login to ANY of my accounts for the past 2 days. Yes I have admitted that I do in fact have 30 accounts. However, what I failed to preface is that these accounts are NOT newly created, not a single one. Every one is at least 2 years old. Now can the argument be made that I am
exploiting
or somehow taking advantage of the event? Absolutely. And I understand those that see it as excessive or greedy.
However, under old management, and I used to be a mod and close to a few GMs years back, I asked about this specifically, is there a limitation to how many accounts one person may have/use and how they may use them and I was told there was not. Now that WEBZEN is in control, this may have changed. If so, that is understandable and I, along with many other players, would like to know what the new rules/guidelines regarding this are.
For the first 5-6 days of this event I didn't have any problem doing what I was doing, logging my accounts and leaving my alt accounts on for the 2 hours or whatever. Then when I remember I had some extra account and tried to log the 31st one, that's when then problem started and I've been blocked out since.
So while I see people may disagree and see that I am taking advantage or exploiting this event, I did not intend to. Obviously yes I will have the items. What was my plan to do with them? No clue. I mean, there are others doing the same thing, not that it makes it right, I am just saying there are many people with 5, 10, 20+ accounts all doing this. That's why there's a 1,000,000 of those summoning scrolls out there right now.
Am I willing to lose all of my accounts over a few summoning scrolls? Absolutely not. I'd like WEBZEN, if possible, to clarify what is acceptable and what isn't as far as this goes. If something has been implemented to try to stop botters from auto-playing and making rupees then I think that is fantastic, but if that is what is causing this snag then that is a completely separate issue.
Just to clarify 5, of my 30 accounts I actively play, the others are for storage. All of them have registered emails. but if WZ were to say, "okay we think an acceptable number of accounts for one household/IP address to have is 5 (or 10, or whatever)", then I, along with most others I believe, would be willing to accept and agree with that. I do not think 5 is an excessive or unreasonable amount, especially with all the buff slaves people want/have these days.
Also, I am not the only one getting this error message, there are people who have been logging maybe 4-5 accounts that I've talked to also experiencing this problem. Some not quite as severe as me, but suffering from DC's and the login issue and etc. There seems to be something going on. Many people have said I am abusing the event - fine. I will publicly state that I will forfeit ALL of the event items in exchange for a clarification on what is and what is not against the rules and be able to get back into the game.
And just to clarify further, as far as I know my account(s) have not been suspended or banned, I simply cannot reach the server selection screen and receive the error displayed above.
Please feel free to leave your comments/opinions but on this one I think it would be more helpful to be constructive rather than flame so that hopefully WEBZEN can clarify for all of us what exactly is going on with this issue. Thank you for your time for those of you who have read this and are going through the same thing.