#1
The biggest issue is ofc threat. Templar has none. According to the game, there are 3 actual tankclasses... (actually always have been... with slayer being a yes/no) I and game show these with skill : provocation in masterclass | Mercenary , Beserker and Templar get extra levels in provocation... aka : Tank-classes
Mercenary and Beserker both get toggle with Hp / Vit /St etc and
Threat!
(skill lvl * 25) Templar does not! Where templar would actually be the one class that must have it.
The solution seens rather obvious. Make Rightous Purpose a toggle and add treath : same as other classes! (25% *skill level)
that would in itself already solve so many problems.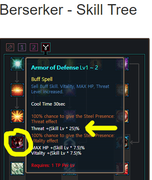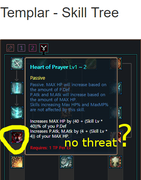 #2
No spamable aoe. Yes Im sure lots will mention there is this thing called holy ground. And there is. And is is a decent skill... But its mostly a debuff.. And damage over time. But at time of cast it does very little. Little damage, no threat. No threat, and no damage = no dp for templars! So we are doomed to solo till the end of time. And solo-ing.. with no aoe.. we are doomed to farm slowly. Only 2 semi-aoe templar has are skils from knight skill tree. heavens madness and judgement of heaven. They do a little damage and get some threat. And since they dont get extra levels in masterclass not really suited for serious dungeons.

Solution : Bring these skills to masterclass skill tree and up their damage and reduce skilltime by a lot! Being able to cast madness lets say every 3 sec and judgement every 5 id be able to hold the room and do some serious damage (like all other classes already do)
#3
More suggestions then musts :
Shield of revenge : could be a great skill. But needs work. Needs to reflect and add damage. otherwise whats the point vs mob with couple of mil hp if i reflect 30% of 15k damage.. Thats little more then a sneeze. And a toggle would make it awesome.
Deflecting shield. Awesome skill! Would love to see some more levels of this in masterclass as well.. I am a shield based masterclass am i not?
But in the end those are suggestions... #1 is a must!!! #2 a much needed boost! Without these templar will likely never see a decent dp again....