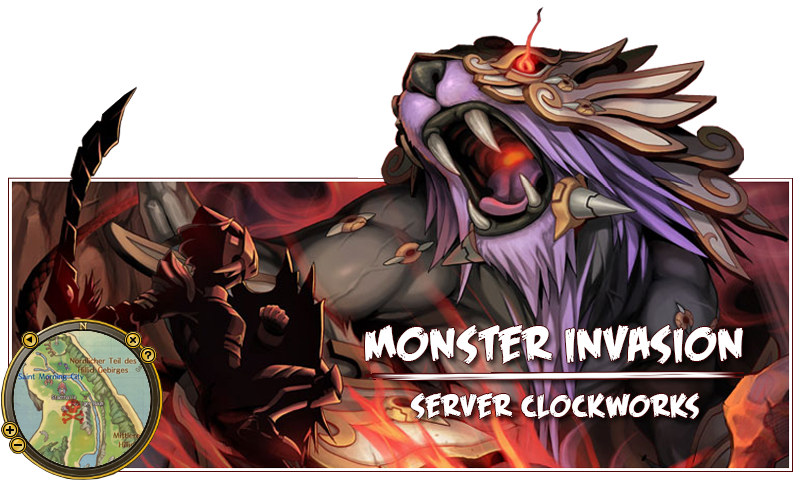 Brave heroes of Madrigal,
It's time to save the world again since evil powers are about to rise. Fight against hordes of monsters for the sake of our beautiful city of Saint Morning!
Date & Time
:
Server Clockworks:
11th October 2019,
from 5:00pm until 6:00pm (UTC) on
channel 3
Location
:
Saint Morning - City Entrance
Rewards
:
After your victory you will have the chance of some loot. Take a look at the table below to learn about more details of the possible rewards.
| | | |
| --- | --- | --- |
| Image | Name | Description |
| | Sunstone | Rare Stone used for General upgrading: +1 to +10. (5 Sunstones and 5 Moonstones makes a Shining Oricalkum) |
| | Moonstone | Rare stone used to pierce suits, upgrade jewelery, and remove gems from weapons. (5 Moonstones and 5 Sunstones makes a Shining Oricalkum) |
| | Jack-O-Lantern Fireworks | This Festive Firework lights up the sky with a gigantic Jack-O-Lantern! |
| | Cloak of the Night Sky | This cloak depicts an imaginative fantasy night landscape and was named by DarkWall on Glaphan! It gives the wearer a 15% Speed and a 100 HP boost. |
| | Shiny Weapon Box | This box has a chance to contain a variety of different blue weapons. |
| | White Rabbit Chance Box | This Chance box gives you the opportunity to get a White Rabbit along with Ddukguks, Flasks, Scroll of Resurrections, Christmas Teas, Vital Drink Xs, and Refresher Holds. |
| | Clock Bike Chance Box | This little box has a chance to contain one of many different useful items, including a chance to contain a Clock Bike! |
| | Guardian Box | One of the Guardian weapons is in it |
| | Historic Box | Box that contains one of historic weapons |
| | MaxPangs Weekend Fun Box | Everything you need to take your weekend TO THE MAX!!! |
| | MsSpeedy's Lunchbox of delicious NomNoms! | This Lunchbox can contain may different delicious items! Open one up and you may receive anything from Cakes, Cookies, Pies, to yummy Drinks! |
| | Natural Furniture Package (7 days) | This box contains the Natural Furniture Set. |
| | FLY | Increases your movement speed by 15% for 1 hour. |
| | FOR | Increases your Defense Power by 150 for one hour. |
| | FUN | Increases your Attack Power by 200 for 1 hour. |